2013
Arifin HS. 2013. Pekarangan Kampung untuk Konservasi Agro-Biodiversitas dalam Mendukung Penganeragaman dan Ketahanan Pangan di Indonesia. IPB Press. Bogor. 81p.
PDF Version Download CLICK Here, Please
———————————————————————————————————————————-

2010
Pembangunan Perdesaan", Book of "Pemikiran Guru Besar 6 PT BHMN" was published in early March 2010 by IPB Press. My article: "Manajemen Lanskap dalam Pembangunan Pertanian Menuju Harmonisasi Kesejahteraan Masyarakat dan Kelestarian Lingkungan" is available in page 313-339
________________________________________________________________________________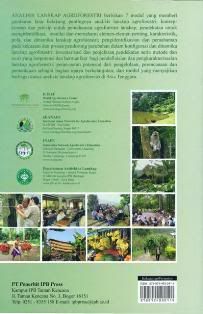 2010
Analisis Lanskap Agroforestri (Agroforerstry Landscape Analysis) by Hadi Susilo Arifin, Christine Wulandari, Qodarian Pramukanto, R.L. Kaswanto. Published by IPB Press, Bogor (2010), Total Page: 199. ISBN:978-979-493-241-4
Synopsis: Agroforerstry Landscape Analysis (AFLA) consists 7 module that have figured a background of the importance of AFLA and AFLA concept, landscape characterization, landscape dynamic and driven factors of AFLA, AFLA method, AFLA integrated management, and AFLA case studies in ASEAN countries.
________________________________________________________________________________

________________________________________________________________________________
2009
Hadi Susilo Arifin, NHS Arifin, A. Munandar, Kaswanto.2009.The 2nd Manual Book: Utilization of Indonesian Home Garden in Rural Area (in Indonesian).28.In print by Ministry of Agriculture of R
I
________________________________________________________________________________
2009
Hadi Susilo Arifin, NHS Arifin, A. Munandar, Kaswanto.2009.The 3rd Manual Book: The Healthy and Environmental Friendly Housing and Settlements (Eco-village) (in Indonesian).33.In print by Ministry of Agriculture of RI
________________________________________________________________________________
2009
Hadi Susilo Arifin, A. Munandar, NHS Arifin, Kaswanto.2009.The 4th Manual Book: Agro-tourism Development in rural Area (in Indonesian).31.In print by Ministry of Agriculture of RI
Download Potensi Agrowisata di Perdesaan
Download LEAFLET Potensi Agrowisata di Perdesaan
________________________________________________________________________________
2008
Hadi Susilo Arifin & A.N.Setiawan.2008.22 Designs of Japanese Gardens (in Indonesian).92.PT Penebar Swadaya, Jakarta.ISBN: 979-002-344-8
________________________________________________________________________________
2008
Hadi Susilo Arifin.2008.Agroforestry landscape concept for establishment of harmonized land use zoning based on watershed system in The Perspective of Agriculture Science in National Development (Eds. T. Kusumastanto, et.al.).483-486.PT Penebar Swadaya, Jakarta & IPB Press.ISBN(13)978-979-002-342-0.iSBN(10)979-002-342-1
________________________________________________________________________________
2008
Eds. Hadi Susilo Arifin & K. Roosita.2008.Abstract and Summary Compilation of Research Results: Landscape Ecological Study on Sustainable Bio-resources in Rural Indonesia.211.Graduate School – IPB, Bogor, ISBN: 978-979-17540-0-2
________________________________________________________________________________
2007
Syartinilia, Arifin, H.S., Prasetyo, L.B. & Tsuyuki, S. 2006. Identification of Potential Protection Area Using GIS and Remote Sensing. A case study in the Upper Stream of Ciliwung Watershed of West Java, Indonesia. in Forest Resources and Mathemathical Modeling Kyoto. (Eds: Atsushi Yoshimoto, Hiroshi Kondoh, & Takuya Hisroshima). Japan Society of Forest Planning Press.Utsunomiya, Japan. 5:209-219
________________________________________________________________________________
2007
Hadi Susilo Arifin.2007.Vision, Mission and Brief Program Period 2007-2012 of IPB Rector Candidate to Develop IPB Toward World Class University, Ideas Compilation of 21 Candidates of IPB Rector Period 2007-2012 (Eds. S. Mangkuprawira, I.M. Padlinurjaji, E. Suhendang, B.P. Nurohmat. A. Rauf, J.J.F. Arief , Senat Akademik IPB).316.Pp134-146.IPB Press, Bogor.ISBN: 978-979-493-162-2
________________________________________________________________________________
2007
K. Kehlein- beck, Hadi Susilo Arifin, B. Maass.2007.Plant diversity in home gardens in a socio- economic and agro-ecological context in The Stability of Tropical Rainforest Margins: Linking Ecological, Economic and Social Constraints (Eds. T. Tscharntke, C. Leuschner, M. Zeller and E. Guhardja).515.Pp 297-319.Springer Verlag Berlin, Germany.This book chapter could be accessed through: here
________________________________________________________________________________
2007
Hadi Susilo Arifin, A. Munandar, NHS Arifin, Q.Pramu- kanto, VD Damayanti.2007."Sampoerna Hijau Kotaku Hijau": Guidance Book for Green City (Design of Public Parks, Planting Design, Domestic Garbage Management).211.[KI]:communication Jakarta
________________________________________________________________________________
2007
Hadi Susilo Arifin & Arif Suwita.2007.Small Gardens (in Indonesian).91.PT. Penebar Swadaya Jakar ta, ISBN: 979-002-056-2
________________________________________________________________________________
2006
Hadi Susilo Arifin.2006.Instant Garden (in Indonesian).139.PT. Penebar Swadaya Jakarta.ISBN: 979-002-027-9
________________________________________________________________________________
2005
Hadi Susilo Arifin and NHS Arifin.HS Arifin, NHS Arifin and Noraida Hj Illias.2005.Parks and Gardens Maintenance (Revised Edition in Indonesian).Translated in Malaysian Language:Pengindahan Landskap Taman.171.PT. Penebar Swadaya Jakarta. ISBN 979-489-202-5
________________________________________________________________________________
2005
Hadi Susilo Arifin and NHS Arifin.HS Arifin, NHS Arifin and Noraida Hj Illias.2005.Parks and Gardens Maintenance (Revised Edition in Indonesian).Translated in Malaysian Language:Pengindahan Landskap Taman.171.PT. Penebar Swadaya Jakar- ta. ISBN 979-489-202-5
________________________________________________________________________________
2004
Synergy.Hadi Susilo Arifin, M. Sarma, N. Wijayanto.2004.Abstracts Compilation of Agroforestry Research in Indonesia.230.IPB-ICRAF ISBN 979-97511-2-8 P230zz
________________________________________________________________________________
2004
Syartinilia, Hadi Susilo Arifin, LB Prase tyo, S. Tsuyuki.2004.Protected Landscape Evaluation Based on GIS and Remote Sensing Analysis in the Upper Stream of Ciliwung Watershed, Bogor District, West Java in Profile and Strategy of River and Water Flows Management (Eds. Ibnu Maryanto dan Rosichon Ubaidillah) (in Indonesian).409.Pp.267-273.Pusat Penelitian Biologi-LIPI, Bogor ISBN 979-579-062-5
________________________________________________________________________________
2003
K. Harashina, K. Take- uchi, Hadi Susilo Arifin.2003.Toward restructuring for sustainable regional system in the humid tropics. *) in: Sustain- able Agriculture in Rural Indonesia (eds. Y. Hayashi, S. Manuwoto, and S. Hartono).468 Pp.369-390.Gadjah Mada University Press. ISBN 979-420-521-4
________________________________________________________________________________
2003
Hadi Susilo Arifin.2003.Integrating the value of local tradition and culture in ecological landscape planning in Indonesia*). in Sustainable Agriculture in Rural Indonesia (eds. Y. Hayashi, S. Manuwoto, and S. Hartono). 468 Pp.391-402.Gadjah Mada University Press.ISBN 979-420-521-4
________________________________________________________________________________
2003
Hadi Susilo Arifin.2003.Ecological planning of a sustainable rural landscape in Indonesia*). in Sustainable Agriculture in Rural Indonesia (eds. Y. Hayashi, S. Manuwoto, and S. Hartono). 468 Pp.403-410.Gadjah Mada University Press.ISBN 979-420-521-4
________________________________________________________________________________
2003
M.A. Sardjono, T. Djogo, Hadi Susilo Arifin, N. Wijayanto.2003.Agroforestry Teaching Material Part 2: Classification and Combination Pattern of Agroforestry Components (in Indonesian).25.World Agroforestry Center, ICRAF, Southeast Asia Regional Office, Bogor
________________________________________________________________________________
2003
Hadi Susilo Arifin, M.A. Sardjono, L. Sundawati, T. Djogo, G.A. Wattimena and Widianto.2003.Exercise Book of Agroforestry in Indonesia (in Indonesian).77.World Agroforestry Center, ICRAF, Southeast Asia Regional Office, Bogor
________________________________________________________________________________
2002
NHadi Susilo Arifin & Hadi Susilo Arifin.2002.Interior Landscaping (Revised Edition in Indonesian).172.PT Penebar Swadaya, Jakarta. ISBN 979-489-248-3
________________________________________________________________________________
1991
Arifin, H.S. dan B. Sulistyantara. 1991. Anggrek Vanda. PT Penebar Swadaya, Jakarta
——————————————————————————————————————————–
 
2005
Arifin HS dan Nurhayati HSA. Pemeliharaan Taman. 2005. Edisi Revisi. PT Penebar Swadaya, Jakarta